Molasses Spice Cake
by
, Updated April 9, 2017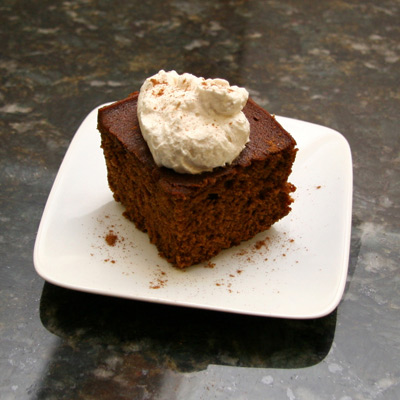 This is a tasty one layer cake, delicious with a dollop of whipped cream or serve it with dessert sauce or powdered sugar.
Prep Time: 15 Minutes
Cook Time: 40 Minutes
Total Time: 55 minutes
Instructions:
Heat the oven to 350 F.
In a mixing bowl cream butter with sugar, beating with electric mixer until light and fluffy. Add eggs, one at a time, beating well after each addition. Add molasses and blend well.
In another bowl combine flour, salt, allspice, ginger, and cinnamon; stir well. Slowly add flour and spice mixture to creamed mixture, beating at low speed. Combine water with baking soda and add to cake batter, mixing well. Batter will be thin.
Pour batter in to a greased and floured 9-by-13-by-2-inch baking pan. Bake for 35 to 45 minutes, or until a wooden pick or cake tester inserted in center comes out clean.
Cool in pan and cut into serving-size squares. If desired, sprinkle with sifted confectioners' sugar.
About 15 servings.
Site Search