Cheddar Puffs with Bacon
by
, Updated April 9, 2017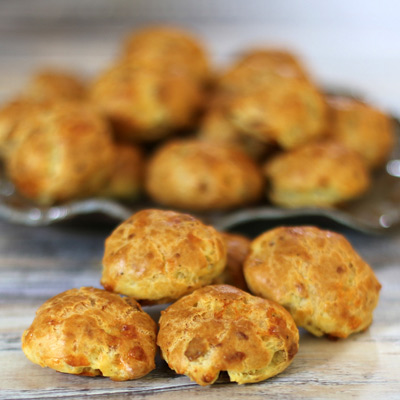 These little appetizers are extra flavorful with bacon, Cheddar, and green onions.
Prep Time: 10 minutes
Cook Time: 30 Minutes
Total Time: 40 minutes
Instructions:
Heat the oven to 350 F.
Line a baking sheet with parchment paper or line it with foil and grease the foil.
Combine milk and butter in a medium saucepan over medium heat. Bring to a boil; add flour all at once, stirring constantly, until mixture forms a dough ball and leaves the sides of the pan. Remove from heat.
You can mix in the pan or transfer to the bowl of a stand mixer.
Add eggs, one at a time, stirring constantly and vigorously until mixture is smooth. Add cheese, bacon or ham, green onion, garlic powder, salt, and pepper.
Drop dough by teaspoonfuls onto the greased foil or pipe the dough. If you have peaks on top of the dough mounds, lightly tamp them down with a damp finger so they won't burn.
Bake for 25 minutes, or until puffed and nicely browned. Serve warm.
Makes about 36

Calories per cheese puff:

25
Site Search