Jo's Peanut Butter Fudge
by
, Updated April 9, 2017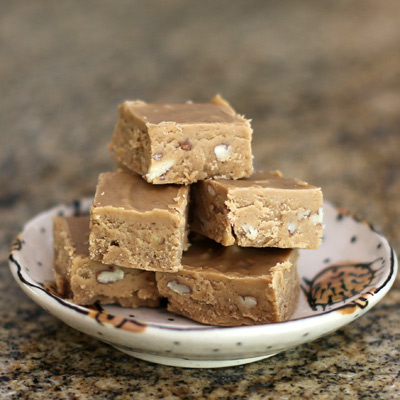 This is an easy, basic peanut butter fudge is made creamier with marshmallow.
Prep Time: 5 minutes
Cook Time: 10 to 15 Minutes
Total Time: 20 minutes
Instructions:
Boil sugar and milk in a medium saucepan, stirring occasionally, to soft ball stage*, or about 236 F on a candy thermometer.
Remove from heat and stir in remaining ingredients.
Pour candy into a greased 8x8-inch pan and chill. Cut peanut butter fudge into squares when cool and firm.
*To Test for Soft Ball Stage
A small amount of syrup dropped into chilled water forms a ball, but is soft enough to flatten when picked up with fingers (234 F to 240 F).

Site Search