Chocolate Chip Cookies
by
, Updated April 8, 2017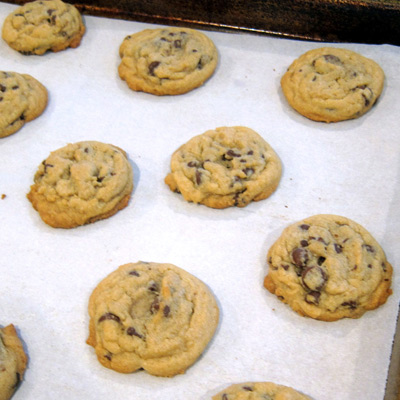 These buttery chocolate chip cookies are packed with chocolate chips! Refrigerating the dough for at least 4 hours improves the flavor. Or refrigerate the dough overnight -- if you can wait!
Prep Time: 10 Minutes
Cook Time: 8 to 10 Minutes
Total Time: 20 minutes
Instructions:
In a large mixing bowl, cream butter and sugar; add eggs, milk, and vanilla, blending well.
In another bowl, combine the flour with baking powder, baking soda, and salt.
Add flour mixture to the creamed mixture, blending well.
Stir in chocolate chips.
Refrigerate dough for at least 4 hours.
Heat the oven to 350 F.
Drop dough by teaspoonfuls onto parchment paper-lined or lightly greased cookie sheets about 1 inch apart.
Bake chocolate chip cookies at for about 8 to 10 minutes, or until lightly browned.
Cool for a few minutes then remove to rack to cool completely.
Makes 5 to 6 dozen cookies.
Site Search