Easy Chocolate Peanut Bars
by
, Updated April 8, 2017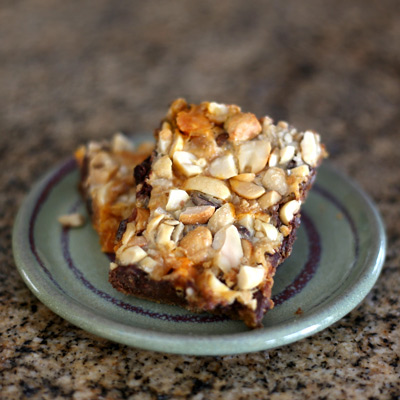 These easy bars are made with graham cracker crumbs, chocolate chips, peanut butter chips, and sweetened condensed milk. It's an easy candy recipe to make any time of the year.
Prep Time: 10 Minutes
Cook Time: 20 Minutes
Total Time: 30 minutes
Instructions:
Heat the oven to 350 F.
Pour melted butter over bottom of a 9-inch square baking pan; sprinkle with graham cracker crumbs, mix, and press evenly over bottom of pan.
Sprinkle crumb layer with chocolate chips then peanut butter chips.
Pour sweetened condensed milk evenly over all.
Sprinkle with chopped peanuts, then press lightly all over.
Bake for 20 to 25 minutes, until set.
Place pan on rack to cool then cut into bars.
Makes about 20 chocolate peanut butter bars.
Site Search