Oven Fried Chicken
by
, Updated April 8, 2017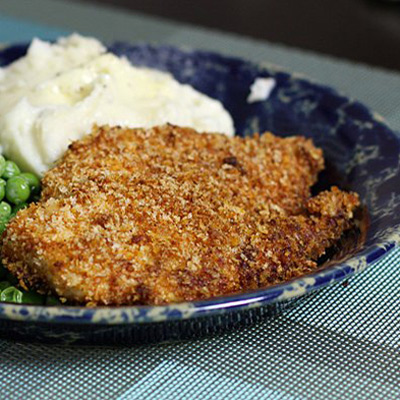 This is a basic oven fried chicken recipe made with bone-in chicken pieces coated with flour and seasonings. Use boneless chicken breasts or thighs if you'd like.
Prep Time: 10 Minutes
Cook Time: 50 Minutes
Total Time: 60 minutes
Instructions:
Heat oven to 425 F.
Put butter in a 9-by-13-by-2-inch baking pan; place the pan in the oven to melt butter.
Meanwhile, mix flour, paprika, salt, and pepper. Coat chicken pieces with the dry mixture; place skin sides down in hot melted butter in baking pan.
Bake chicken, uncovered, for 35 minutes; turn chicken pieces. Bake for about 15 to 20 minutes longer, or until juices run clear from thickest pieces.
According to USDA guidelines, the minimum safe temperature for chicken is 165 F.
Oven fried chicken serves 4 to 5.

Calories per serving:

600
Site Search