Thyme and Pepper Roast Beef
by
, Updated April 8, 2017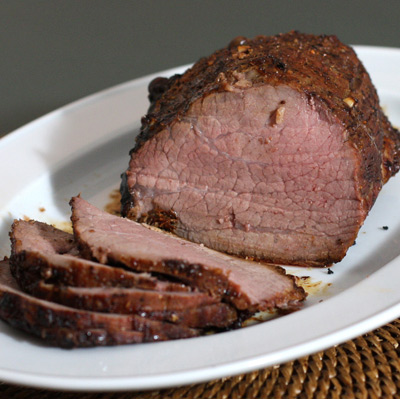 This roast beef recipe is adapted from a Beef Council recipe brochure. It's a basic roast beef recipe made with a round tip roast and seasonings.
Prep Time: 5 minutes
Cook Time: 35 Minutes
Total Time: 40 minutes
Seasoning
Instructions:
Preheat oven to 325 F.
Combine the seasoning ingredients and press evenly into the beef tip roast. Place beef tip roast on a rack in shallow roasting pan. Do not add water and do not cover. Roast for about 22 minutes per pound for medium rare to medium.
A meat thermometer inserted in thickest part should read 140 F for medium rare, 155 F for medium.
Let roast stand 15 minutes. (Temperature will rise about 5 degrees.)
Slice roast beef and serve.
Serves 8.

Calories per serving:

500
Site Search