Apple Sauerkraut Pork Cops
by
, Updated April 8, 2017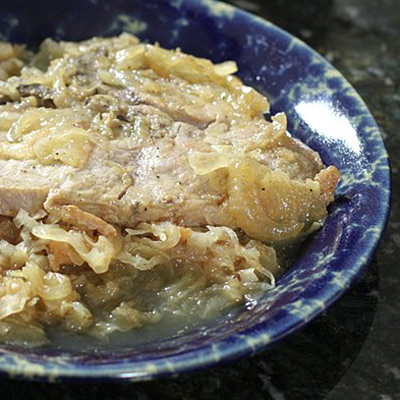 Apples and sauerkraut go so well with pork or ham. I love the caraway seeds, but they can be lefto out if you don't care for them. Use the fresher tasting bagged sauerkraut if you can find it, but canned will do as well.
Prep Time: 10 Minutes
Cook Time: 45 Minutes
Total Time: 55 minutes
Instructions:
Heat oil in a heavy skillet over medium heat. Add pork chops to hot oil and brown on both sides. Remove pork chops; set aside. Drain off excess pan drippings.
Add the rinsed sauerkraut, water, and caraway seeds to the skillet, stirring well. Place pork chops on top.
Combine remaining ingredients and spoon evenly over the pork chops.
Cover, reduce heat to low, and simmer for about 30 minutes, or until pork chops are tender.
Pork chop recipe serves 4.

Calories per serving:

280
Site Search