1-2-3 Peanut Butter Cookies
Updated September 5, 2017 by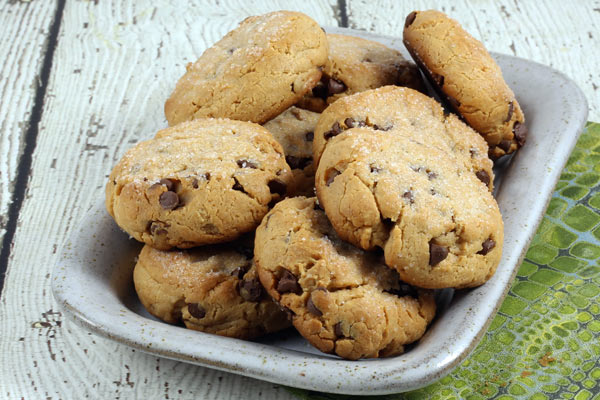 These cookies are super easy to prepare with Bisquick baking mix. Make these peanut butter cookies with the kids. They take less than 15 minutes to prepare and bake! I added mini chocolate chips to mine, but feel free to leave them out.
Related:
Classic Peanut Butter Cookie Recipe
Prep Time: 5 minutes
Cook Time: 8 minutes
Total Time: 13 minutes
Instructions:
Heat the oven to 375 F.
Line baking sheets with parchment paper.
In a mixing bowl with a wooden spoon, combine the peanut butter and sweetened condensed milk until smooth. Add the vanilla and stir to blend.
Add the baking mix and mini chocolate chips, if using, and blend thoroughly. The dough will be quite stiff.
Use a small cookie scoop to scoop up the dough and then roll it into small balls. Place on the prepared baking sheets leaving about 1 1/2 inches between the cookies.
Grease the flat bottom of a cup or glass with a small amount of butter and dip it in the granulated sugar. Lightly press each ball of cookie dough and then use a fork to flatten a bit more and make the criss-cross marks.
Bake for about 8 minutes.
Makes about 3 dozen peanut butter cookies.
Site Search