Marble Cake
by
, Updated April 8, 2017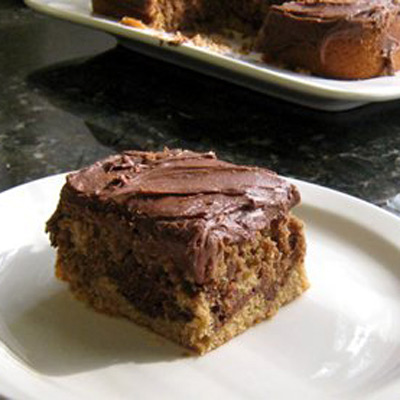 Melted chocolate is swirled into the vanilla batter to make this old-fashioned marble cake. Frost this large one-layer cake with your favorite chocolate frosting.
Prep Time: 15 minutes
Cook Time: 40 minutes
Total Time: 55 minutes
Instructions:
Heat the oven to 325 F.
Sift together the flour, baking powder, and salt. Stir in oil, milk and vanilla and beat until batter is very smooth.
In another bowl, beat the eggs until thick and foamy. Gradually add sugar and continue beating until well blended. Fold egg and sugar mixture thoroughly into the first batter.
Drizzle chocolate over the batter then cut through batter several times to give a marbled appearance. Pour into a greased and floured 9-by-13-by-2-inch baking pan. Bake for 35 to 45 minutes.
Cool then frost.
Serves 12 to 20
Site Search