Chicken Enchiladas
by
, Updated April 7, 2017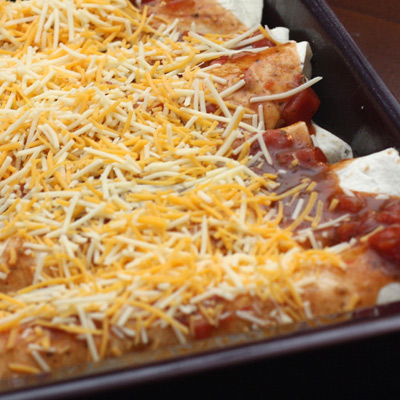 Chicken enchiladas are a big favorite in our family, and this is quite a tasty recipe. If you like more heat, add some chopped jalapeno chile peppers to the mixture along with the milder peppers.
Prep Time: 20 minutes
Cook Time: 45 minutes
Total Time: 1 hour 5 minutes
Instructions:
Heat the oven to 400 F.
In a skillet heat oil and saute the onions and garlic for about 5 minutes, until tender. Stir in tomatoes, chiles, oregano, salt, and sugar. Simmer for 15 minutes, stirring occasionally.
Combine 1/2 cup of the sauce with the chicken and set aside.
Bring remaining sauce just to a boil.
Place a tortilla in sauce to soften. Remove, letting excess sauce drip back into skillet.
Place tortilla in greased 9-by-13-by-2-inch baking pan and place 2 tablespoons chicken mixture down center of tortilla. Roll up and place seam side down in corner of the dish.
Repeat with remaining tortillas then pour remaining sauce over tortillas.
Sprinkle with the cheese.
Bake for 20 to 25 minutes or until bubbly. Serve chicken enchiladas with dollops of sour cream garnished with sliced olives.
Serves 4


Calories per serving:

465
Site Search