One Pot Chicken Rice Dinner
by
, Updated April 7, 2017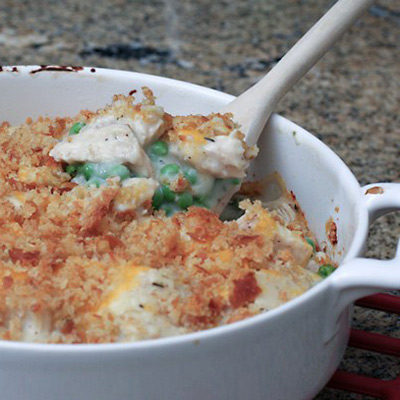 Chicken and rice is a comfort food for me, and this is a great combination. Feel free to use another vegetables if peas are not your favorite. This would be delicious with mixed vegetables or cut green beans, even spinach could be used.
Prep Time: 15 minutes
Cook Time: 25 minutes
Total Time: 40 minutes
Instructions:
Heat the oven to 400 F.
Melt 3 tablespoons of butter in a saucepan over medium heat. Blend in flour and thyme and cook 1 minute. Do not brown. Gradually stir in broth and milk, cooking and stirring until thickened and smooth.
Stir the chicken into the sauce mixture and add salt and pepper; set aside.
Grease a 1 1/2-quart shallow baking dish. Spread rice in prepared baking dish; sprinkle with the peas and pour creamed chicken over all. Dot with remaining tablespoon of butter then sprinkle with bread crumbs and cheese.
Bake the casserole until hot and bubbly, about 20 minutes.
This tasty chicken and rice recipe.
Serves 4

Calories per serving:

650



Site Search