Spiced Beef with Vegetables, Slow Cooker
by
, Updated April 7, 2017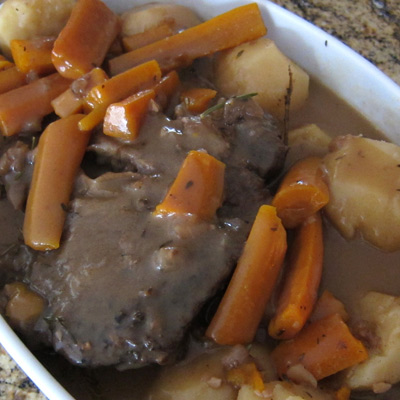 This slow cooker beef recipe is easy and tasty, with a spiced marinated chuck roast or thick chuck steak cooked all day in the crock pot or slow cooker. Plan ahead, because this beef should marinate for at least 1 hour before cooking.
Prep Time: 15 Minutes
Cook Time: 8 Hours
Total Time: 8 hours 15 minutes
Instructions:
In a saucepan, bring vinegar, 1/2 cup water, and allspice to a boil. Pour over meat in a shallow non-reactive pan. Coat well, cover, and refrigerate for 1 to 2 hours. Turn frequently.
Drain and reserve marinade.
Place vegetables in crockpot, followed by meat. Add reserved marinade, beef broth, salt, and sage.
Cover and cook on LOW for 7 to 9 hours, until meat and vegetables are tender.
Slice meat thinly and serve with vegetables and sauce.
Oven beef recipe

serves 4 to 6

. Calories per serving:

700
Site Search