How to Make Stabilized Whipped Cream
by
, Updated April 7, 2017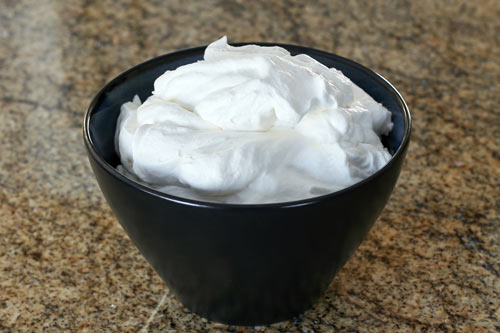 This is an easy way to make whipped cream ahead of time, no more runny whipped cream. And it is so much better (and more natural) than whipped topping in a tub.

Put the mixing bowl and beaters in the refrigerator for about 10 to 15 minutes before starting.
Prep Time: 10 minutes
Cook Time: 1 Minute
Total Time: 11 Minutes
Instructions:
Start with chilled mixing bowl and beaters.
Put the unflavored gelatin in a microwave safe bowl or 1-cup measure. Add the 2 tablespoons of cold water and let stand for 5 minutes. Put the solidified gelatin in the microwave and microwave for about 4 to 5 seconds at a time until it becomes liquid.
Beat the cream until slightly thickened. Beat in the confectioners' sugar then the vanilla and continue beating until thick and almost to soft peaks.
Add the liquid gelatin mixture and continue beating to stiff or near-stiff peaks.
Refrigerate until serving time.
Tip: If you make too much whipped cream, freeze it! Just line a baking sheet with wax paper. Spoon or pipe whipped cream onto the wax paper in serving size portions. Freeze then transfer to a plastic freezer bag or freezer container.

8 to 12 Servings
Site Search