Veal Chops With Mushrooms
by
, Updated April 7, 2017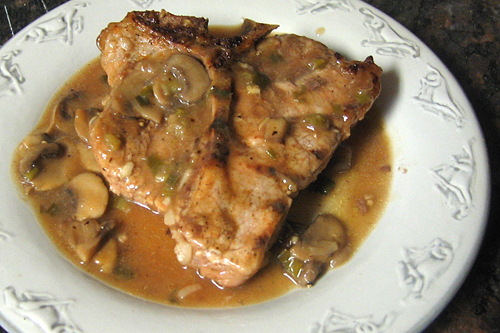 Mushrooms, wine, and garlic flavor these thick veal chops. The veal chops are an excellent choice for a special occasion dinner. Serve the chops with mashed or baked potatoes and a salad for an easy and elegant meal.
Prep Time: 15 minutes
Cook Time: 50 minutes
Total Time: 1 hour 5 minutes
Ingredients:
Instructions:
Trim away any excess fat from the veal chops.
In a medium saucepan, melt 4 tablespoons of the butter. Stir in the flour, tarragon, and Gravy Master. Cook, stirring, for 2 minutes. Remove from the heat.
Pour the beef broth into a 2-cup measure and add enough dry white wine to make 2 cups (one reader mentioned red wine was delicious as well).
Gradually stir the broth and wine mixture into the flour and butter roux mixture; place the pan back over medium heat and bring to a boil, stirring constantly. Remove from the heat and set aside.
Toss the sliced mushrooms with the lemon juice.
In a large skillet, melt 1 tablespoon of the butter; saute the mushrooms for 4 to 5 minutes, until tender. Remove the mushrooms to a plate and set aside.
Add the remaining 3 tablespoons of butter to the skillet and brown the chops for about 3 minutes on each side, or until nicely browned.
Add the sliced onion to the skillet along with the garlic; saute for about 5 minutes longer.
Add the mushrooms to the skillet along with about 1/2 cup of the sauce mixture. Cover the skillet and simmer for 20 to 30 minutes, or until the veal chops are tender.
Add the remaining sauce to the skillet and heat through.
4 Servings
Site Search