Homemade Vanilla Pudding
by
, Updated April 7, 2017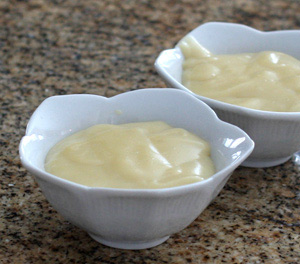 This vanilla pudding is a rich and delicious homemade version, and it takes just minutes to prepare and cook.
Prep Time: 9 minutes
Cook Time: 5 minutes
Total Time: 14 minutes
Ingredients:
Instructions:
In a medium saucepan, whisk together the sugar, cornstarch, and salt. Gradually stir in the milk. Cook over medium heat, stirring constantly, until mixture thickens and begins to boil. Boil, stirring constantly, for 1 minute.
Whisk about half of the hot mixture into the lightly beaten egg yolks. Stir the egg yolk mixture back into the saucepan mixture.
Continue cooking, stirring constantly, for 1 minute; remove from heat and stir in the butter and vanilla.
Divide evenly among 4 dessert dishes. Chill thoroughly before serving.
Serve with a dollop of whipped cream or whipped topping.
Makes about six 1/3-cup servings

Calories per serving:

171


Fat per serving:

6.9



Site Search