Easy Tomato Cream Sauce for Pasta
by
, Updated September 11, 2017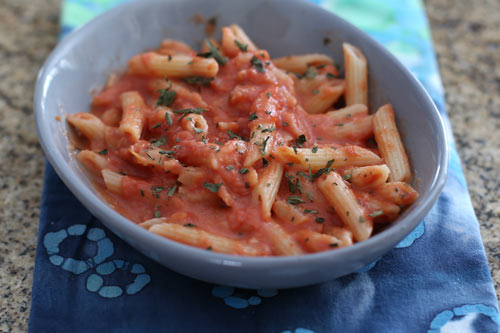 This is a simple preparation, made with crushed tomatoes, garlic, and herbs. Heavy cream is added to the sauce just before serving.

Toss the sauce with hot cooked penne pasta, spaghetti, or your favorite.
Prep Time: 6 minutes
Cook Time: 20 Minutes
Total Time: 26 Minutes
Instructions:
Heat the oil in a large saute pan over medium heat. Add the onion and cook, stirring for 5 minutes. Add the garlic and cook for 1 minute longer. Stir in the tomatoes and basil and continue cooking for 10 minutes.
Add the cream, sugar, if using, and salt and pepper, to taste. Continue cooking, stirring occasionally, for 5 minutes longer.
Serve with hot cooked pasta.
Garnish with fresh chopped basil, parsley, or Parmesan cheese.
Serves 4 to 6
Site Search