Sugared Pecans
by
, Updated April 6, 2017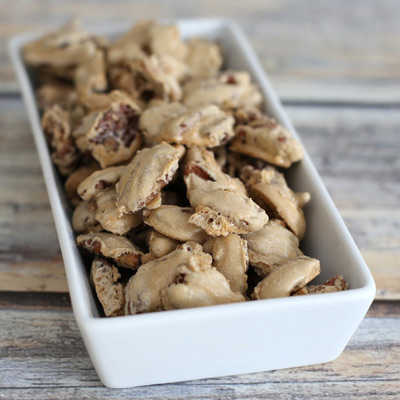 These sugared pecans are mixed with egg white, sugar, and spices, then they're baked to perfection. They make a fabulous snack for the holidays or a game day gathering.
Prep Time: 10 minutes
Cook Time: 1 hour
Total Time: 1 hour 10 minutes
Ingredients:
Instructions:
Heat the oven to 250 F.
Spray two baking sheets with nonstick cooking spray.
Beat the egg white until frothy. Beat in the sugar, salt, cinnamon, and nutmeg.
Stir the pecans into the egg white mixture until well coated. Spread the pecans out over the prepared baking sheets in a single layer. Try to leave a little space between the pecans so they won't form clumps.
Bake for 1 hour.
Cool the pecans and store in tightly covered containers.
Makes 4 cups

Calories per 1/4-cup serving:

221


Fat per 1/4-cup serving:

20.4



Site Search