Spatchcocked Turkey
by
, Updated April 6, 2017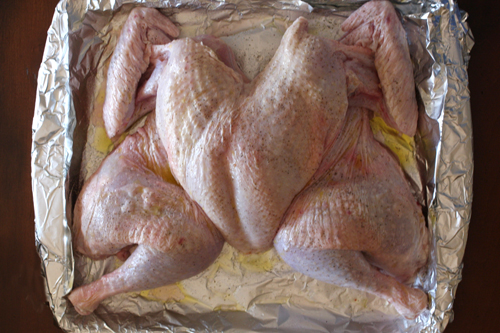 This flattened turkey takes a little preparation, but it cooks in only an hour and 10 to 15 minutes. I used a wild mushroom sage infused olive oil, but a garlic olive oil or plain would work as well.
Prep Time: 20 minutes
Cook Time: 1 hour 15 Minutes
Total Time: 1 hour 35 minutes
Ingredients:
Instructions:
Line a large jelly roll pan or broiler pan with foil. Grease the foil.
Put the turkey on a surface, breast side down.
With sharp kitchen shears or a sharp knife, carefully cut down each side of the backbone; remove the backbone.
Rinse the turkey and remove any bone fragments and excess fat pieces, etc.. Pat dry.
Place the turkey on a slip-free surface, breast side up. Press down on one side of the breast, close to the breast bone, until you hear a crack. REpeat on the other side of the breast. I used a clean towel to keep my hand from slipping.
Transfer the flattened turkey to the prepared pan.
Turn the thighs outward, as in the picture, and tuck the wing tips under the bird.
Heat the oven to 450 F. Rub the oil all over the turkey; sprinkle with salt and pepper. Let the turkey stand at room temperature for 20 minutes.
Roast for 1 hour and 15 minutes, or until the thickest part of the thigh reaches 165 F on an instant read thermometer or oven probe. Let the turkey stand for 20 minutes.
Serves 6 with leftovers

Calories per serving (about 6 ounces of meat per person):

361


Fat per serving (about 6 ounces of meat per person):

14.1g



Site Search