Spaghetti With Mushrooms, Bacon, and Parmesan Cheese
by
, Updated April 6, 2017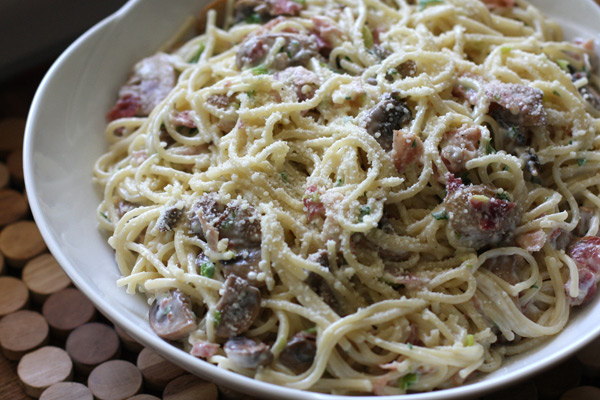 Spaghetti, mushrooms, bacon, and green onions are tossed together with a creamy Parmesan cheese sauce. The recipe can be made with diced ham as well, or leave the meat out of the recipe and add some steamed peas or asparagus.
Prep Time: 15 minutes
Cook Time: 15 minutes
Total Time: 39 minutes
Ingredients:
Instructions:
Bring a large pot of water to a boil. Break the spaghetti into the boiling water and add about 1 teaspoon of salt. Cook following the package directions for timing. Drain the spaghetti in a colander and set aside.
Meanwhile, heat 2 tablespoons of the butter in a heavy skillet over medium heat. Add the mushrooms and cook until tender, stirring frequently. Add the green onions and garlic to the mushrooms and cook for 2 minutes longer. Add the cooked bacon and stir to blend. Add the drained spaghetti; set aside.
Melt the remaining 3 tablespoons of butter in a saucepan over medium-low heat. Stir in flour and cook for about 2 minutes, stirring constantly. Add the half-and-half or milk to the roux and cook until sauce is thickened and begins to bubble, stirring constantly. Stir the 1/2 cup of Parmesan cheese into the sauce.
Add the sauce to the spaghetti mixture along with the fresh parsley. Toss to blend and add salt and pepper to taste.
Transfer to a serving bowl and sprinkle with more Parmesan cheese.
Serves 6

More Recipes
Ham and Asparagus With Fettuccine
Basic Homemade Gnocchi

Site Search