Spaghetti and Cheese Casserole
by
, Updated April 6, 2017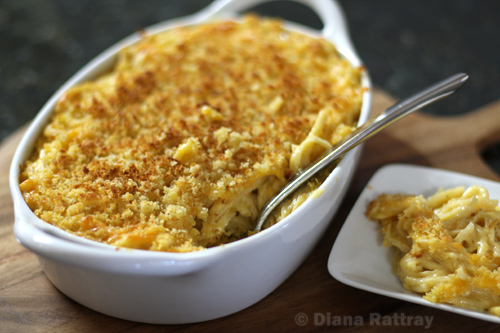 A rich cheese sauce makes this pasta casserole extra special. Use spaghetti, linguini, or bucatini in this casserole.
Prep Time: 15 minutes
Cook Time: 35 minutes
Total Time: 50 minutes
Ingredients:
Instructions:
Cook the pasta in boiling salted water following package directions. Drain and set aside.
Heat oven to 350 F. Lightly butter a 2 1/2-quart baking dish or spray lightly with nonstick cooking spray. I used butter flavored spray.
Meanwhile, melt 4 tablespoons of the butter over medium heat. Blend in the flour until smooth and bubbly. Cook, stirring, for 1 minutes. Stir in the mustard, salt, and black pepper. Add the cayenne, if using. Gradually stir in milk. Cook, stirring, until thickened.
Reserve about one-third of the cheddar cheese and 3 tablespoons of the Pecorino Romano for topping. Add the remaining cheese to the sauce mixture and cook, stirring, just until cheese has melted.
Combine the cheese sauce and the hot drained pasta.
Pour the pasta mixture into the prepared baking dish. Sprinkle the reserved cheddar and Romano or Parmesan cheese over the pasta mixture.
Melt the remaining 2 tablespoons of butter and toss with the soft bread crumbs. Sprinkle over the cheese layer. Bake for 25 minutes, or until golden brown.
Serves 6 to 8
Site Search