Slow Cooker Lemon and Garlic Chicken Thighs
by
, Updated April 6, 2017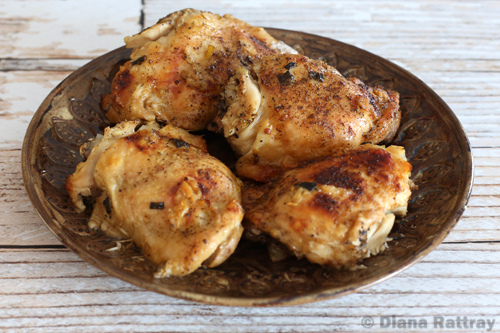 These flavorful slow cooker lemon chicken thighs are broiled for a few minutes after cooking, producing golden, crispy skin. Fresh lemons, garlic, and a little dried oregano or basil flavor the chicken thighs perfectly.

Serve the chicken with baked or mashed potatoes for a fabulous family dinner.
Prep Time: 15 minutes
Cook Time: 3 hours 15 minutes
Total Time: 3 hours 30 minutes
Ingredients:
Instructions:
Arrange the chicken thighs in a single layer in the slow cooker. Slice one lemon and set aside. Juice the remaining lemon and drizzle the juice over the chicken pieces. Sprinkle with the garlic, kosher salt, pepper, and oregano or basil. Top with the lemon slices.
Cover and cook on HIGH for 3 to 4 hours.
Adjust a rack in the oven to the highest level. Heat the broiler to HIGH (500 F).
Transfer the chicken thighs to rack in a baking pan (arranged skin-side up) and place it under the broiler for about 4 to 6 minutes, or until the skin is golden brown and crispy.
Serves 4

More Recipes
Chicken Thighs with Rice
Easy Skillet Chicken with Red Wine
Dijon Chicken Breasts




Site Search