Savory Shepherd's Pie
by
, Updated April 6, 2017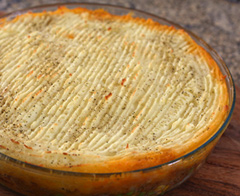 If you prefer the taste of beef, this would make a great tasting cottage pie with lean ground beef and beef broth for the gravy.
Prep Time: 20 Minutes
Cook Time: 50 Minutes
Total Time: 1 hour 10 minutes
Instructions:
In a large saucepan, cover the potatoes with water and bring to a boil. Reduce heat, cover, and simmer for about 20 minutes, or until potatoes are tender. Set aside.
In a large skillet, heat the olive oil over medium heat. Add the onion, carrot, and mushrooms, and cook, stirring, until lightly browned. Add the ground lamb and cook, stirring and breaking up, until lightly browned.
Blend 2 tablespoons of the broth with the flour, whisking until smooth. Stir into the pan along with the remaining broth. Bring to a simmer, stirring constantly. Add the bay leaf, Worcestershire sauce, and tomato paste. Cover and simmer for 45 minutes to 1 hour, stirring occasionally. Uncover and simmer for about 5 to 10 minutes longer, until slightly reduced and thickened. Stir in the dried tarragon.
Heat the oven to 375 F.
Heat the potatoes until hot. Drain well and mash with the butter, milk, and parsley.
Spoon the meat mixture into an 8-inch square pan or deep pie pan. Top with the mashed potatoes, spreading to cover the meat mixture.
Bake for 25 to 30 minutes, until nicely browned.
Serves 4 to 6

Calories per serving (based on 6 servings):

432


Fat per serving (based on 6 servings):

17.6




More Recipes
Hamburger Pie Recipe
Cheeseburger Pie Recipe
Ground Beef Casserole With Mashed Potato Topping
Beef Casserole with Mashed Potatoes

Site Search