Sesame Pork
by
, Updated April 6, 2017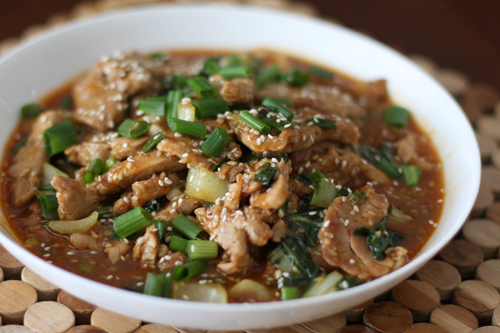 This great tasting, easy pork tenderloin is loaded with flavor. Serve the pork with a fried rice or Asian style noodles, such as Easy Garlic Noodles or Sesame Noodles
Prep Time: 15 minutes
Cook Time: 12 minutes
Ingredients:
Instructions:
Combine all sauce ingredients; whisk until smooth and set aside.
Add the peanut or canola oil to a large skillet or wok over high heat; add the sliced pork and cook, turning, until nicely browned and cooked through.
Remove the pork to a plate. Add the green onions to the skillet and cook, stirring, for 1 minute. Add the sauce mixture and cook for 1 minute longer. Add the pork back to the skillet and heat through.
Transfer the pork and sauce to a serving dish and garnish with reserved sliced green onion tops and sesame seeds, if desired.
Serves 4

Calories per serving:

434


Fat per serving:

19.5



Site Search