Classic Scalloped Potatoes
by
, Updated April 6, 2017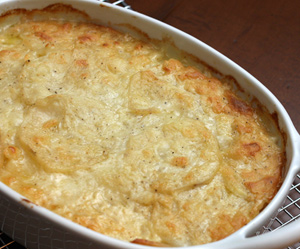 These delicious scalloped potatoes are easy to prepare with a thickened sauce, onions, and seasonings. This recipe makes a nice side dish casserole for a potluck or family meal.
Prep Time: 15 minutes
Cook Time: 1 hour 30 minutes
Total Time: 1 hour 45 minutes
Ingredients:
Instructions:
Preheat the oven to 350 F.
Generously butter a 2-quart baking dish.
In a medium saucepan over medium heat, melt 5 tablespoons of butter. Saute the onion until softened. Stir in the flour until well incorporated and bubbly, about 1 to 2 minutes. Gradually stir in the milk. Cook, stirring, until the sauce is thickened. Stir in the salt and pepper, and nutmeg, if using.
Layer half of the potato slices in the prepared baking dish. Spoon half of the sauce mixture over the potatoes, then top with the remaining potatoes. Spoon the remaining sauce over all.
Dot with the remaining 1 tablespoon of butter.
Cover with foil and bake for 1 hour.
Remove the foil and bake for 20 to 30 minutes longer, or until the potatoes are tender.
Serves 6

Calories per serving:

274


Fat per serving:

13.3



Site Search