Simple Sauteed Mushrooms
by
, Updated April 6, 2017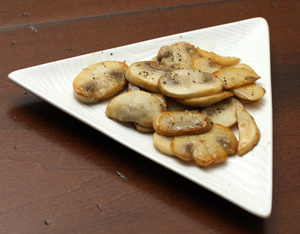 This recipe for sauteed mushrooms is simple and delicious. The mushrooms go nicely with steaks, burgers, and roast beef or pork.
Prep Time: 5 minutes
Cook Time: 5 minutes
Total Time: 10 minutes
Ingredients:


Instructions:
Wash the mushrooms and trim off the tips of the stems. Slice large mushrooms and leave very small mushrooms whole or halved.
In a medium skillet over medium heat, melt the butter. Add the mushrooms and saute for 4 to 6 minutes, or until the mushrooms are tender. Season with salt and pepper.
Serves 4

Calories per serving: 126
Fat per serving: 11.8

Site Search