Salisbury Steaks with Creamy Mushroom Sauce
by
, Updated April 6, 2017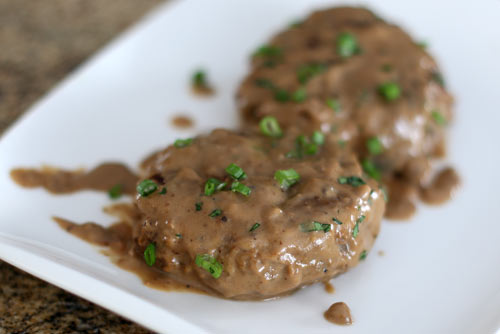 Dijon mustard and a little Worcestershire sauce flavors the meat mixture for these tasty Salisbury steaks, and mushroom soup makes the gravy a snap to prepare.

These Salisbury steaks are delicious with mashed potatoes, rice, or noodles, along with a side vegetable or green salad.

Use canned sliced mushrooms in the recipe if you're short on time, or leave them out altogether.
Prep Time: 150 minutes
Cook Time: 25 Minute
Total Time: 40 Minutes
Instructions:
In a bowl, combine the mustard, Worcestershire sauce, egg, bread crumbs, milk, and salt. Whisk to blend. Add the ground beef and finely chopped onion; knead to blend ingredients.
Shape the beef mixture into 4 large patties or 5 to 6 small patties.
Heat butter in a large skillet over medium heat. Saute the mushrooms, stirring frequently, until tender and browned. Remove the mushrooms to a plate and set aside.
Add 2 tablespoons of vegetable oil to the skillet. Brown the patties on one side; turn carefully to brown the other side.
Meanwhile, combine the soup with the water and optional beef bouillon and gravy browning sauce; stir in the mushrooms. Pour the mushroom sauce mixture over the Salisbury steaks. Reduce heat to low, cover, and simmer for about 10 minutes, or until the meat is cooked through.
Serve the patties with the mushroom sauce.
4 to 6 Servings
Site Search