Cheese Fondue With Roasted Red Peppers
by
, Updated April 6, 2017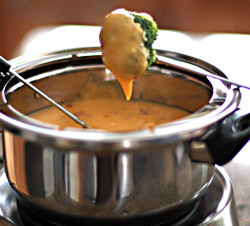 This fondue is quick and easy to prepare and it makes a nice dip for a party or game day gathering. Serve with bread cubes, broccoli flowerets, or other vegetable dippers.
Prep Time: 5 minutes
Cook Time: 10 minutes
Total Time: 15 minutes
Ingredients:
Instructions:
In a large saucepan over medium-low heat, whisk together the milk, Worcestershire sauce, ground mustard, and flour. Cook, stirring, until thickened.
Add the American cheese and cook, stirring, until the cheese has melted.
Add the Cheddar cheese and cook, stirring until melted.
Stir in roasted red bell peppers and cook, stirring, until hot.
Transfer to a fondue pot and keep warm over a low flame or heat setting.
Serve with French bread cubes or vegetable dippers.
About 18 Servings

Calories per serving:

110


Fat per serving:

7.7



Site Search