Potatoes Au Gratin
by
, Updated April 6, 2017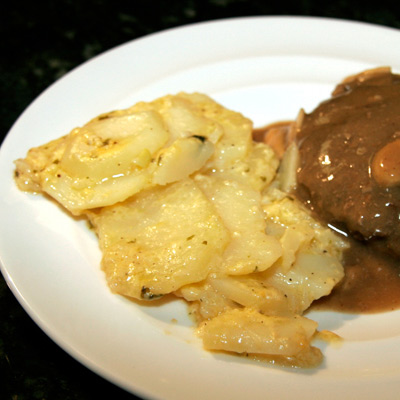 This recipe for potatoes au gratin makes a great tasting potato casserole with a flavorful cheese sauce and buttery bread crumb topping. Take this hearty potato casserole along to a potluck event or serve as a family side dish.
Prep Time: 20 minutes
Cook Time: 1 hour 20 minutes
Total Time: 1 hour 40 minutes
Ingredients:
Instructions:
Preheat the oven to 375 F.
Grease a 2-quart baking dish.
In a medium saucepan over medium heat, melt 4 tablespoons of butter. Stir in the flour and cook, stirring, for about 1 minute. Gradually whisk in the milk or cream. Cook, stirring constantly, until the sauce is thickened and bubbling. Add 1 1/2 cups of the shredded cheese; stir until cheese is melted.
Spread a 2 to 3 tablespoons of the sauce in the bottom of the prepared baking dish. Arrange half of the potato slices in the baking dish. Lightly sprinkle the potato layer with salt, pepper, and nutmeg. Spoon half of the remaining sauce over the potato layer, then follow with the remaining potatoes. Sprinkle lightly with salt, pepper, and nutmeg and spoon the remaining sauce over all.
Bake for 1 hour.
Remove from the oven and sprinkle with the remaining 1/2 cup of shredded cheese and then sprinkle with the buttered bread crumbs.
Return to the oven and bake for 20 minutes longer.
Serves 6

Calories per serving:

427


Fat per serving:

22.1



Site Search