Basic Two Crust Pie Pastry
by
, Updated April 6, 2017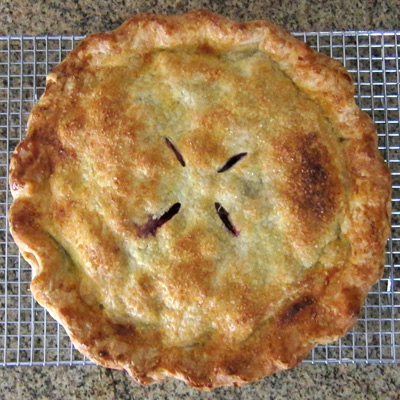 Here's a basic pie pastry recipe for a two-crust pie. This is a nice crust to use for a fruit pie or pot pie. Add a teaspoon or more of sugar for a sweeter pastry.
Prep Time: 15 minutes
Total Time: 15 minutes
Instructions:
Cut shortening and butter into the flour and salt until you have particles the size of small peas. Sprinkle in 4 tablespoons of the water, a little at a time, tossing with a fork until the flour is moistened and pastry leaves the sides of the bowl. Add 1 to 3 teaspoons more, as needed, just a few drops at a time.
Gather the pastry into a ball and flatten; cut in half and shape into two rounds. On a lightly floured surface with floured or cloth covered rolling pin, roll a portion out about 2 inches larger than an inverted pie plate. Fold in half, then in half again. Ease into the pie plate, carefully unfolding. Press firmly against the bottom and side of the pie plate.
After filling the pie, roll the second portion out as the first. Cut slits in the center of the pastry to allow steam to escape. Fold in half, then in half again. Place over the filling and carefully unfold. Trim the overhanging edge about 1 inch from the edge of the pie plate. Fold and roll the top edge under the lower edge. Press on rim to seal and flute as desired.
Bake as recipe directs.
Serves 8

Calories per serving:

290


Fat per serving:

20.3



Site Search