Pecan Pie With Cream Cheese
by
, Updated April 6, 2017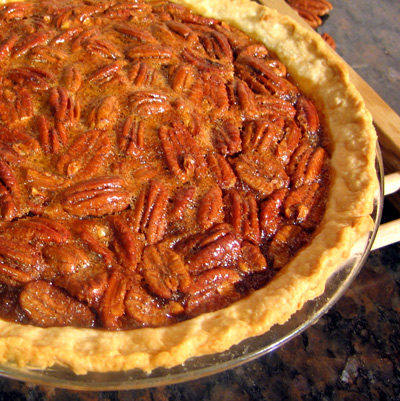 I usually divide a pie into 8 slices, but you might want to cut this rich and delicious pie into smaller wedges.
Prep Time: 15 minutes
Cook Time: 35 minutes
Total Time: 50 minutes
Instructions:
Preheat the oven to 375 F. Line a pie plate with the prepared pie pastry.
In a small bowl, combine the cream cheese, 1/3 cup granulated sugar, 1 teaspoon vanilla, and 1 egg. With an electric mixer, beat on medium speed until well blended and smooth. Spread in the prepared pie crust. Sprinkle the cream cheese layer with the pecans.
In a medium bowl, combine the 3 eggs, 1/4 cup sugar, corn syrup, and 1 teaspoon vanilla. Beat on medium speed until blended. Pour over the pecan layer.
Bake for 35 to 40 minutes, or until the center is firm.
Store leftovers in the refrigerator.
Serves 8

Calories per serving:

566


Fat per serving:

32.0



Site Search