Oven Baked Pancake
by
, Updated April 6, 2017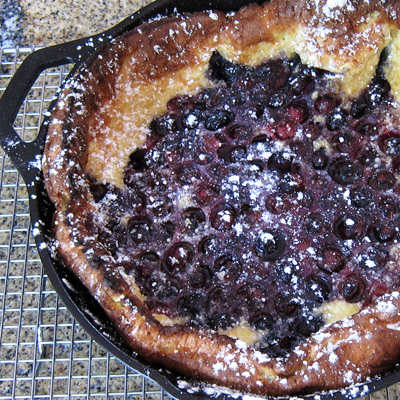 A cream cheese batter makes this baked pancake rich and delicious. Slice this oven pancake and serve hot with your favorite syrup or preserves. Or scatter blueberries over the top just before the pancake goes into the oven.
Prep Time: 10 minutes
Cook Time: 20 minutes
Total Time: 30 minutes
Ingredients:
Instructions:
Put 1 tablespoon of the butter in a 10-inch ovenproof skillet; place in a preheated 400 F oven.
In a mixing bowl with mixer on low speed, beat eggs with milk, honey, and cream cheese. Blend in the flour, baking powder, and salt; beat on high speed for 2 minutes. Add the remaining 3 tablespoons of melted butter and beat until smooth.
Carefully remove the hot skillet to a rack. Immediately pour the pancake batter into the hot skillet and return to the oven. Bake for 20 to 25 minutes, or until nicely browned and puffed.
Sprinkle with powdered sugar, slice into wedges, and serve hot with syrup or preserves.
Serves 6

Nutritional information does not include toppings
Calories per serving:

307


Fat per serving:

18.6



Site Search