Mustard Glazed Pork Loin Roast
by
, Updated April 6, 2017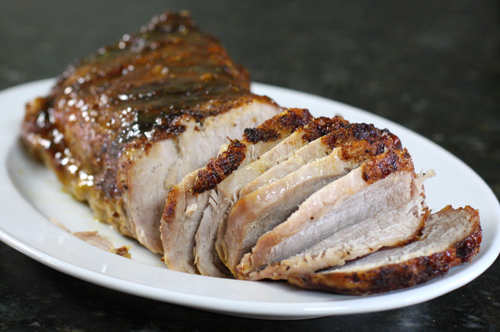 The sweetened mustard glaze flavors the pork roast perfectly, and it's a breeze to prepare and cook. I prefer Lyle's Golden Syrup a concentrated cane syrup, but you may use light or dark corn syrup.
Prep Time: 10 minutes
Cook Time: 1 hour 30 minutes
Total Time: 1 hour 40 minutes
Ingredients:
Instructions:
Heat oven to 350 F.
Line a roasting pan with foil.
Wash the pork roast and pat dry; place it in the prepared roasting pan. Sprinkle the roast generously with the Cajun seasoning or seasoned salt, pepper, and garlic powder.
Roast in the preheated oven for about 1 1/2 to 2 hours. Brush the glaze mixture (see below) over the pork frequently the last 30 minutes of cooking. The minimum safe temperature for pork is 145 F.
Glaze Mixture
In a small bowl, combine the syrup with the brown sugar, mustard, vinegar, and thyme.
Serves 8 to 10.
Site Search