Mocha Mousse Dessert
by
, Updated April 6, 2017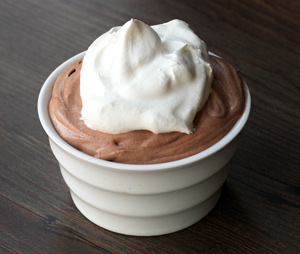 This light and easy dessert is quick and easy to fix, and makes a delicious dessert. Add chocolate shavings or jimmies, or a dollop of whipped cream to make it extra-special.
Prep Time: 10 minutes
Cook Time: 4 minutes
Total Time: 14 minutes
Ingredients:
Instructions:
In a small saucepan over medium heat combine the 2 tablespoons of milk with the instant coffee and chocolate. Cook, stirring constantly, until chocolate is melted. Remove from heat and let the mixture cool slightly.
Meanwhile, in a bowl, beat the 1 1/3 cups of milk with the pudding mix until well blended and thickened, about 2 minutes.
Blend the melted chocolate mixture into the pudding mixture. Fold in the whipped topping until well blended. Spoon into dessert dishes and refrigerate until serving time.
Serves 6

Calories per serving (using "lite" whipped topping):

176


Fat per serving (using "lite" whipped topping):

6.3



Site Search