Mince and Dumplings
by
, Updated September 5, 2017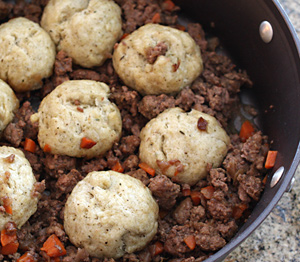 This classic British dish is a simple, great tasting comfort food. The ground beef mixture is topped with soft herb dumplings. This is similar to a beef and biscuits recipe, but it's made on the stove top. Many recipes call for beef suet or shortening for the dumplings, but I use butter. For a more authentic dish, use beef suet. Serve with boiled or mashed potatoes.
Related: Shepherd's Pie
Prep Time: 15 minutes
Cook Time: 40 minutes
Total Time: 55 minutes
Ingredients:
Dumplings
Instructions:
In a large, deep skillet or saute pan over medium heat. saute the onion and carrot in the oil until onion is lightly browned. Add the ground beef and cook, breaking up, until well browned and no longer pink, about 10 minutes.
Stir 1 tablespoon of flour into the beef mixture. Gradually add 1 1/2 cups of beef broth, stirring constantly. Add the 1/2 teaspoon of pepper, and bay leaf. Taste and add salt, as needed. Bring to a boil. Reduce heat, cover, and simmer for 5 minutes.
Meanwhile, prepare the dumplings. In a medium bowl, whisk together the 2 cups of flour, baking powder, 1/2 teaspoon of salt, sage, thyme, and 1/2 teaspoon of pepper. Work the butter in with your fingers or a pastry blender until the mixture resembles meal. Add 1/2 cup of water and mix with hands until the dough holds together. The dough should be soft, but stiff enough to shape. With floured hands, shape the dough into 8 balls.
Arrange the dumplings on the beef mixture, cover, and continue cooking over low heat for about 20 minutes.
The dumplings should be fluffy and cooked through.
Check and add more broth or water if the beef mixture becomes dry.
Serves 6
Site Search