Macaroni and Cheese With Ham
by
, Updated April 6, 2017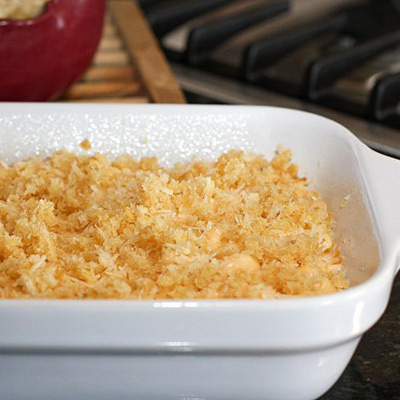 If you're looking for a potluck or family casserole, this macaroni and cheese with ham is a nice choice. Serve this hearty, delicious macaroni and cheese dish with a tossed salad and biscuits.
Prep Time: 15 minutes
Cook Time: 45 minutes
Total Time: 1 hour
Ingredients:
Instructions:
Heat the oven to 375 F.
Butter a 2 1/2 to 3-quart baking dish or spray with nonstick cooking spray.
Cook the macaroni according to package directions. Drain and rinse with hot water.
In a medium saucepan, melt 4 tablespoons of butter. Stir in flour. Cook, stirring, for 1 minute. Add the milk and cook, stirring, until thickened. Stir in the ham and 1 1/2 cups of the Cheddar cheese. Add salt and pepper, to taste.
Combine the sauce and drained macaroni, stirring until well blended. Turn the macaroni and cheese mixture into the prepared baking dish. Sprinkle with the remaining 1/2 cup of cheese.
Melt the remaining 2 tablespoons of butter; toss with the bread crumbs. Sprinkle over the cheese layer.
Bake for 30 minutes, until bubbly and lightly browned.
Serves 6

Calories per serving:

561


Fat per serving:

31.3



Site Search