Italian Style Meatloaf
by
, Updated April 6, 2017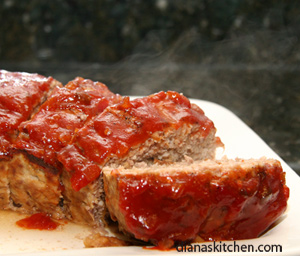 Wonder how to tell if your meatloaf is safely cooked? An instant read thermometer should read at least 160 F for a meatloaf with ground meat. For a meatloaf with ground turkey or other poultry, at least 165 F.
Prep Time: 15 minutes
Cook Time: 1 hour 10 minutes
Total Time: 1 hour 25 minutes
Ingredients:
Instructions:
In a small skillet, heat the olive oil over medium heat. Add the onions and garlic and cook, stirring, until the onion is light yellow and wilted. Set aside to cool.
Combine the ground beef, egg, bread crumbs, Parmesan cheese, parsley, and basil. Using your hands, mix well. Work in the cooked onions and garlic.
Shape the meat mixture into a round or oblong loaf and transfer to a loaf pan. Bake the meatloaf for 55 minutes. Remove the meatloaf from the oven and arefully pour off any excess grease. Pour the tomato sauce over the meatloaf and return to the oven to bake for about 15 minutes longer. The meatloaf should register at least 160 F on an instant read thermometer inserted in the center of the loaf.
Remove from the oven and let stand for 10 minutes before slicing.
Serves 6

Calories per serving:

354


Fat per serving:

17.8




More Recipes
Barbecue Meatloaf Recipe
Cheesy Meatloaf
Meatloaf with Gravy and Crescent Roll Topping
Quick and Easy Meatloaf

Site Search