Grilled Pork Tenderloin
by
, Updated April 6, 2017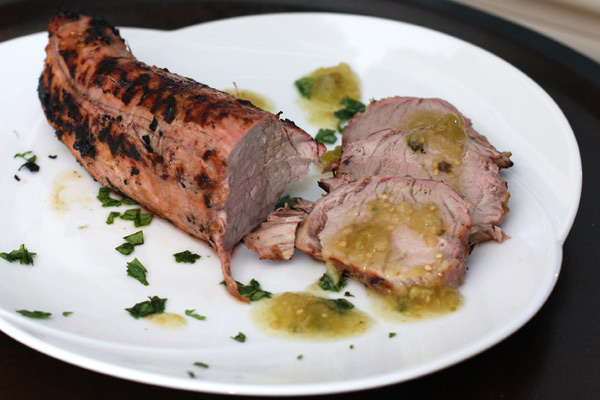 These grilled pork tenderloins are lean and delicious. The pork is marinated in a mixture of lime juice, salsa verde, garlic, and green onions. Serve the grilled pork tenderloin sliced with extra salsa verde and cilantro.
Prep Time: 10 minutes
Cook Time: 20 minutes
Total Time: 30 minutes
Ingredients:
Instructions:
Trim the silverskin coating and excess fat from the tenderloins.
In a bowl or zip-close food storage bag, combine the 1/3 cup of salsa verde, lime juice, garlic, and green onions. Add the pork and turn to coat all sides. Close the bag or cover the bowl and refrigerate for 2 to 4 hours.
Heat the grill to medium-high, or about 375 F to 400 F. Oil the grill rack.
Grill the tenderloins, turning frequently, for about 20 minutes, or until they register at least 145 F, the minimum safe temperature for pork.
Remove the tenderloins to a plate and tent with foil. Let them rest for 10 minutes.
Slice and serve with salsa verde; garnish with cilantro, if desired.
Makes 4 servings.
Site Search