Southern Green Beans With Bacon
by
, Updated April 6, 2017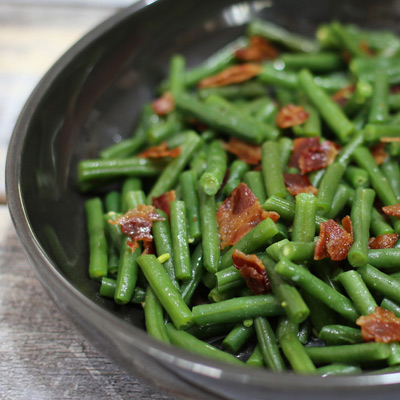 The longer cooking in this recipe is typical for Southern style green beans, and the bacon adds great flavor. This is an excellent way to cook fresh green beans. Feel free to fry some bacon and use it as a garnish.
Prep Time: 10 minutes
Cook Time: 50 Minutes
Total Time: 1 hour
Instructions:
Put the bacon in a large saucepan with the chicken broth. Bring to a boil. Cover, reduce heat, and cook for 20 minutes.
Add the trimmed and sliced green beans, along with the onion and sugar.
Cover and continue cooking for about 30 minutes longer, or until the green beans are tender.
Serves 6

Calories per serving:

236


Fat per serving:

12.9



Site Search