Basic Gnocchi
by
, Updated April 6, 2017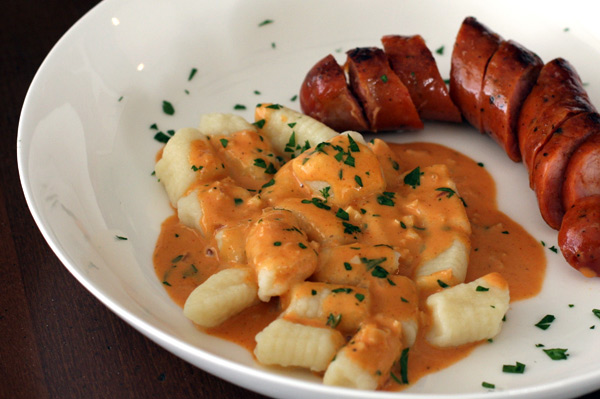 This easy gnocchi is a made with a combination of hot riced potatoes, an egg, salt, and flour. Even if you don't have a special gnocchi board, the gnocchi is easily shaped. Just gently roll each piece over the back of a fork. Gnocchi cooks in about 2 minutes, and they can be frozen and cooked later.
Prep Time: 20 minutes
Cook Time: 45 minutes
Total Time: 1 hour 5 minutes
Ingredients:
Instructions:
Heat the oven to 400 F.
Scrub the potatoes and pierce in several places with a fork. Place the potatoes on the oven rack and bake for about 45 minutes, or until the potatoes are tender when pierced with a fork.
Meanwhile, flour a pastry mat or board or the countertop.
Beat the egg in a small bowl; set aside.
Lightly flour a baking sheet.
As soon as the potatoes are cool enough to handle but still hot, peel them and put them through a potato ricer (or food mill). Measure 2 cups of potatoes and spread them out on the floured surface. Let them cool just slightly. If too hot, they could cook the egg; they should be quite warm.
Scoop the warm potatoes into a mound and drizzle the beaten egg over them. Sprinkle the potatoes with 1 cup of flour and 1/2 teaspoon of salt. With a pastry scraper or your hands, mix the dough, folding it over until you have a soft but slightly rough dough is formed. If the dough is sticking, add a bit more flour, but don't overwork the dough.
Divide the dough into about six portions.
Roll each portion to form a rope about 1/2-inch in thickness.
With a sharp knife, cut the rope into 3/4-inch lengths. Gently roll each piece of dough over a gnocchi board or over the back of a fork to make the classic gnocchi ridges. If you don't get perfect ridges at first, they will get better with a little practice.
Arrange the shaped gnocchi in a single layer on the lightly floured baking sheet while you work on the remaining dough.
If you are cooking the gnocchi immediately, have a large saucepan of salted water boiling. Add about 2 dozen gnocchi and cook for about 1 1/2 to 2 minutes after they float to the top.
To freeze, put the baking sheet with gnocchi in the freezer for a few hours, or until they are solid. Transfer the frozen gnocchi to a freezer bag; seal, label with the name and date, and store in the freezer.
Cook the frozen gnocchi in boiling salted water as above.
Serves 6

More Recipes
Basic Egg Pasta with Flavor Variations
Gnocchi with Fontina Sauce

Site Search