Spicy Fried Chicken Breasts
by
, Updated April 6, 2017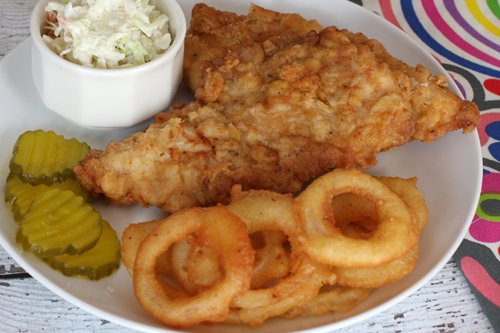 Use flattened small boneless chicken breasts in this recipe or make cutlets with larger chicken breasts. The spice mix for the fried chicken breasts gives them fabulous flavor and the chicken takes just minutes to prepare and fry.
Prep Time: 15 minutes
Cook Time: 12 minutes
Total Time: 27 minutes
Ingredients:
Instructions:
Place the chicken breasts between sheets of plastic wrap and gently pound to an even thickness. If the chicken breasts are quite large (8 to 10 ounces) carefully slice to make two thin cutlets from each chicken breast.
Combine the salt, cayenne, white, and black peppers, garlic and onion powders, paprika, cumin, oregano, and thyme.
Rub the chicken pieces all over with the spice mixture. Put in a food storage bag or container. Seal and refrigerate for 1 to 2 hours.
Heat vegetable oil in a deep skillet or deep fryer to 360 F.
Combine the eggs and buttermilk in a medium bowl. Whisk until smooth.
Put the flour in a large, shallow bowl or pie plate.
Heat the oven to 170 F to 200 F if you will be cooking the chicken in batches.
Dip each chicken piece in the egg mixture. Shake off excess liquids, then dredge in the flour. Put in the hot oil. Depending on the size of the pan or deep fryer and the number of chicken pieces, you might have to do this in batches. If so, place the finished chicken pieces on a rack over a rimmed baking sheet and put in the oven while you fry the rest.
Fry the chicken for about 7 to 9 minutes, turning to brown both sides. The chicken should be golden brown on both sides and juices will run clear.
Serves 4 to 6

Similar Recipes
ven Fried Chicken
Crunchy Fried Chicken
Cajun Chicken Nuggets



Site Search