Flaky Buttermilk Biscuits
by
, Updated April 6, 2017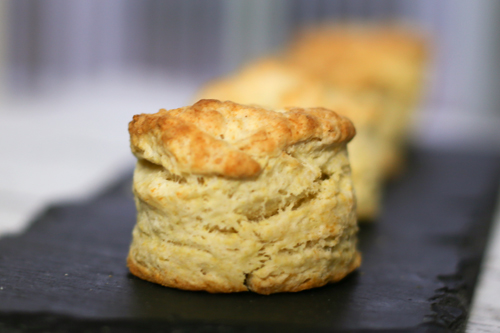 These Southern style buttermilk biscuits are made with all butter.

One secret to perfect, flaky biscuits is to handle the dough as little as possible. Knead a few times, just to bring the dough together. You don't want it to be a compact dough.

The biscuits freeze well, and they can be frozen and baked later. Just freeze them in a single layer, store them in freezer bags, then bake whenever you want one -- or a few -- fresh hot biscuits.
Prep Time: 8 minutes
Cook Time: 11 minutes
Total Time: 19 minutes
Ingredients:
Instructions:
Line a baking sheet with parchment paper. Heat the oven to 450 F.
In a food processor or large bowl, combine the flour, baking powder, salt, and soda. Cut the butter into small pieces and add to the mixture. Work in with fingers or with the food processor until the mixture looks like coarse crumbs.
If using the food processor, transfer the mixture to a large bowl and make a well in the center. Add the buttermilk and stir with a wooden spoon until it clumps together.
Turn out onto a lightly floured surface and knead just a few times to get the dough together. Pat the dough out to a 3/4-inch thick circle and cut out with 2-inch cutters.
Gently put the scraps together and pat out again, cutting out biscuits until all the dough is used. Work the dough as little as possible.
Arrange the biscuits on the baking sheet and bake for 10 to 12 minutes, until golden brown on tops and bottoms.
Makes 8 to 10 biscuits.
Site Search