Dublin Coddle
by
, Updated April 6, 2017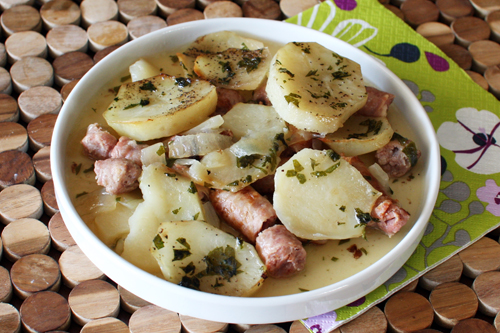 This Dublin coddle is a combination of potatoes, bacon, and sausage. Parsley and onions are added to the dish for color and flavor. It's an excellent dish for a St. Patrick's Day event, but you don't have to wait for a special occasion to enjoy the dish. Add it to a big breakfast or brunch, or serve it for dinner, and don't forget the Irish soda bread.
Prep Time: 20 minutes
Cook Time: 1 hour 20 minutes
Total Time: 1 hour 40 minutes
Ingredients:
Instructions:
Heat the oven to 350 F.
In a large skillet, cook the bacon until browned and the fat has rendered; move the bacon to paper towels to drain.
Brown the sausages (prick in several places with fork) in the remaining bacon fat; drain on paper towels and then slice into 1/2-inch pieces.
Peel and slice the potatoes about 1/4-inch thick.
In a 3-quart casserole dish, layer the bacon, sausage, sliced onion, and potato, sprinkling each layer with salt and pepper and some of the fresh chopped parsley.
Pour off all but a few teaspoons of bacon drippings from the skillet.
Add the chicken stock or water to the skillet and bring to the boil. Pour over the potato casserole.
Sprinkle the potatoes with salt and pepper, and more chopped parsley.
Cover and bake in the preheated oven for 50 to 60 minutes, or until the potatoes are just tender.
Remove the cover and cook for an 20 to 30 minutes longer, or until the top is browned and potatoes are fork-tender.
Serves 6

More Recipes
Creamy Scalloped Potatoes

Au Gratin Potatoes
Classic Irish Stew with Lamb

Site Search