Overnight Crockpot Oatmeal
by
, Updated April 6, 2017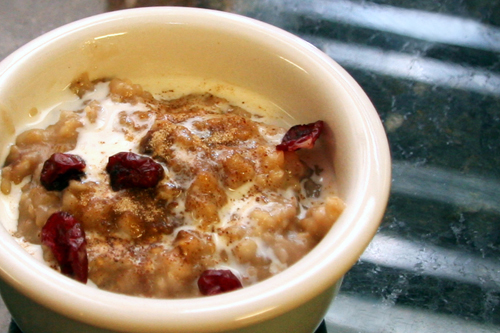 Add your choice of raisins or dried cranberries to this convenient crockpot oatmeal, or leave it plain with cinnamon and vanilla. You may make this the night before and wake up to a delicious breakfast. Or make it during the day, refrigerate it, and heat it in the morning.
Prep Time: 10 minutes
Cook Time: 7 hours
Total Time: 7 hours 10 minutes
Ingredients:
Instructions:
Butter the inside of the slow cooker crockery insert or spray with nonstick cooking spray.
Combine the oats, water, applesauce, brown sugar (if using), and cranberries. Pour into the slow cooker.
Cover and cook on LOW for 6 to 9 hours.
Add the half-and-half; blend well. Cook for 10 minutes longer.
Garnish the oatmeal with cinnamon sugar and dried cranberries; serve with milk.
12 Servings
Site Search