Crispy Chocolate Peanut Butter Fudge
by
, Updated April 6, 2017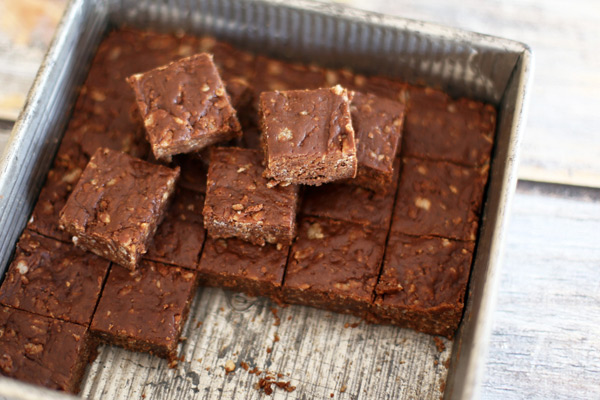 This easy fudge takes no more than 15 minutes, start to finish! The simple formula is similar to no-bake cookies, but the crispy texture comes from rice cereal and graham cracker crumbs.
Prep Time: 10 minutes
Cook Time: 2 minutes
Total Time: 12 minutes
Ingredients:
Instructions:
Butter an 8-inch square baking dish.
Combine the crispy rice cereal and graham cracker crumbs in a large bowl.
Combine the corn syrup, brown sugar, and salt in a medium saucepan over medium-high heat. Bring the mixture to a full rolling boil; boil for 1 minute. Stir in the peanut butter and chocolate chips until smooth. Stir in the vanilla.
Pour the hot mixture over the cereal and crumbs. Mix well to blend ingredients. The mixture will be quite thick.
Immediately spoon the mixture into the prepared pan and pat to smooth the top. Refrigerate the fudge until firm, about 20 to 30 minutes.
Cut into squares and store leftovers in a tightly sealed container in the refrigerator.
Makes about 2 dozen.
Site Search