Coconut Cream Pie
by
, April 12, 2017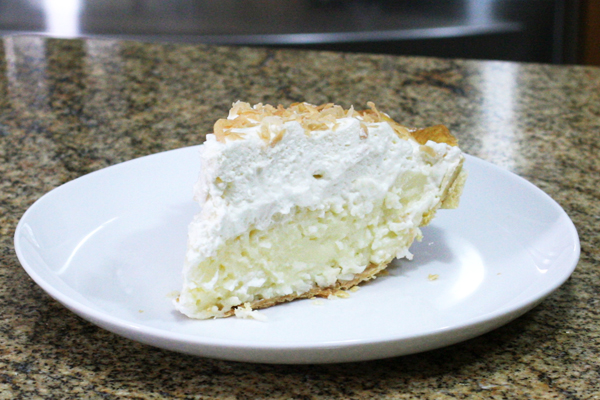 This fluffy coconut cream pie is topped with whipped cream and toasted coconut. Or use frozen (thawed) whipped topping or Dream whip to finish the pie.
Prep Time: 20 minutes
Cook Time: 10 minutes
Total Time: 30 minutes
Instructions:
In a medium saucepan, whisk together the cornstarch, granulated sugar, and salt. Gradually add the hot milk, whisking constantly.
Place the saucepan over medium heat. Whisking constantly, bring the filling mixture to a boil. Reduce the heat to low and continue cooking until thickened, stirring constantly.
Beat the eggs in a small bowl. While whisking, add about 3/4 cup of the hot milk mixture. Add the egg mixture to the saucepan and continue cooking, whisking constantly, for about 2 minutes.
Pour the mixture through a metal sieve into a bowl and then add 1 1/2 teaspoons of vanilla extract and the 2 tablespoons of butter.
Cover the surface of the custard mixture with plastic wrap to keep it from forming a skin. Let the filling cool thoroughly.
Stir 1 cup of the coconut into the custard and then spoon it into the cpp;ed pie shell. Cover the pie and refrigerate to chill thoroughly.
Put the remaining 1/2 cup of coconut in a large dry skillet and place it over medium heat. Cook, stirring and turning constantly, until the coconut is golden brown. Immediately remove the toasted coconut to a plate to halt the cooking process. Set aside.
In a large bowl, whip the whipping cream until soft peaks form. Add the sifted powdered sugar and the remaining 1 teaspoon of vanilla. Beat to stiff peaks.
Spoon the whipped cream over the chilled pie filling, spreading to the crust and mounding in the center. Sprinkle with the cooled toasted coconut.
Cover loosely and chill thoroughly before serving.
Store leftovers in the refrigerator, loosely covered, for about 3 to 4 days.
Tips: Use frozen thawed whipped topping instead of freshly whipped cream.

Serves 8

Calories per serving:

290


Fat per serving:

20.3




More Recipes
Lemon Chess Pie
Pineapple Chess Pie
Old-Fashioned Pie Crust Recipe
Cranberry Apple Pie
Site Search