Chewy Double Coconut Cookies
by
, Updated April 6, 2017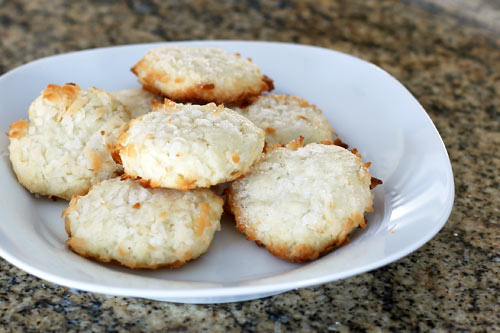 I doubled the coconut when I made these chewy coconut cookies. The cookies are made with a simple butter and coconut cookie dough, then they're rolled in coconut just before baking. All of that coconut gives the cookies fabulous flavor and texture. Bake them for the holidays or for an everyday treat.

Flavor the cookies with vanilla or almond extract.
Prep Time: 10 minutes
Cook Time: 10 Minutes
Total Time: 20 Minutes
Instructions:
Heat the oven to 350 F. Line a large baking sheet with parchment paper or a silicone baking mat. Or grease the baking sheet.
In a mixing bowl combine the flour, butter, beaten whole egg, 1/2 cup of the granulated sugar, 1 1/2 cups of the coconut, and almond or vanilla extract. Beat until a soft dough is formed.
Shape the dough into 1-inch balls.
Roll each ball in the egg white mixture then in the remaining 1 1/2 cups of coconut.
Arrange on the baking sheets, leaving about 1 1/2 to 2 inches between them.
Dip the flat bottom of a cup or glass in the remaining 3 tablespoons of sugar and press the cookies to flatten to about 1/3-inch in thickness.
Bake the cookies for 10 to 12 minutes, or until set and golden brown on the bottoms.
Makes About 2 to 2 1/2 Dozen
Site Search