Coconut and Chocolate Chip Cookies
by
, Updated April 6, 2017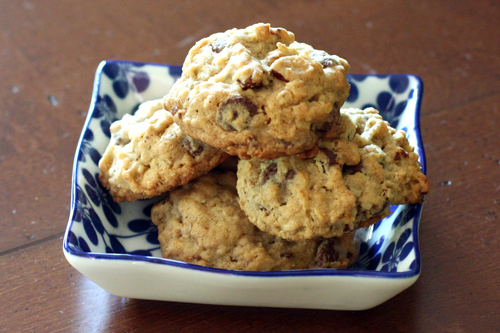 These chewy coconut and chocolate chip cookies are loaded with flavor. Coconut, oats, and and chopped pecans add extra flavor and texture to the chocolate chip cookies.
Prep Time: 10 minutes
Cook Time: 12 minutes
Total Time: 22 minutes
Ingredients:
Instructions:
Heat oven to 350 F.
Line baking sheets with parchment paper or a silicone mat, or lightly grease the baking sheets.
In a large mixing bowl with an electric mixer, cream the butter and sugars for 3 to 5 minutes, or until light and fluffy.
Add the egg and vanilla to the creamed mixture and beat until well blended.
Slowly beat in the flour, baking powder, soda, and salt.
Stir in oats, chocolate chips, pecans, and coconut.
Drop the dough onto the prepared baking sheets.
Bake in the preheated oven for 12 to 14 minutes.
The recipe makes approximately 3 dozen cookies.
36 Servings
Site Search