Classic Cheesecake
by
, Updated April 6, 2017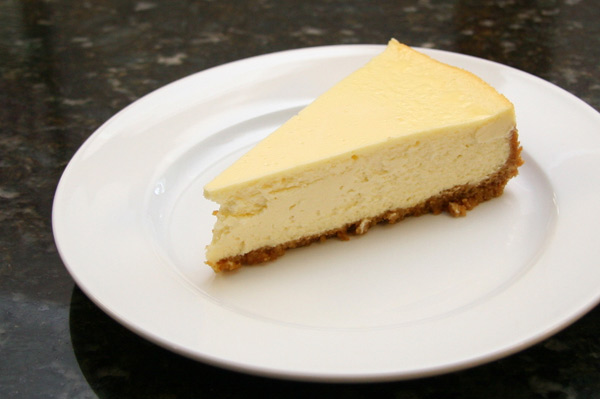 This classic crustless cheesecake can be topped with your favorite dessert sauce, a warmed pie filling, or a fresh fruit sauce. If you prefer a crust, make it with this graham cracker crust.
Prep Time: 10 minutes
Cook Time: 1 hour
Total Time: 1 hour 10 minutes
Instructions:
Preheat oven to 375 F. Generously grease a 10-inch springform pan.
Beat cream cheese and butter together until creamy. Blend in the sour cream. Add the flour, lemon juice, and vanilla; beat until well blended.
Add the eggs, one at a time, beating well after each addition.
Pour into the prepared springform pan.
Wrap the bottom and sides of the pan with heavy duty foil.
Set the wrapped pan in a larger pan.
Add about 1 1/2 to 2 inches of hot water to the outer pan.
Bake for about 1 hour, or until set. The cheesecake is set but will still jiggle slightly. Turn the oven off and open the oven door slightly.
Let the cheesecake cool in the oven for about 1 hour.
Remove and let stand on a rack for 2 hours. Loosen the rim of the pan and let the cake cool completely before removing the rim.
Serve with warm cherry pie filling, a dessert sauce, or a fresh fruit sauce.
Serves 12 to 16

Nutritional information based on 12 servings:
Calories per serving:

530


Fat per serving:

44.1



Site Search