Chicken and Zucchini With Tomatoes
by
, Updated April 6, 2017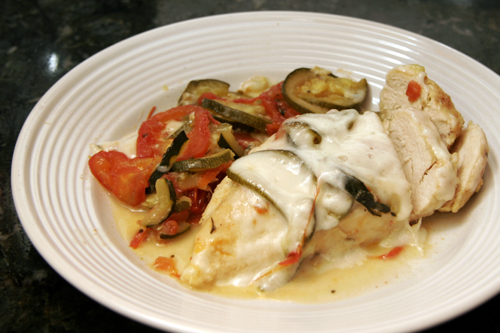 This is a fast and easy chicken and zucchini skillet meal. Sliced tomatoes and mozzarella cheese flavor the dish perfectly along with some seasoned salt or Creole seasoning. It's an excellent everyday family meal and one skillet means easy cleanup.
Prep Time: 15 minutes
Cook Time: 30 minutes
Total Time: 45 minutes
Ingredients:
Instructions:
Place a sheet of plastic wrap over a chicken breast or put it in a food storage bag. Pound gently to flatten to an even thickness. If the chicken breasts are large, you might want to slice them in half horizontally for serving-size portions and faster cooking.
Heat the olive oil in a large skillet over medium heat.
Lightly sprinkle salt, pepper, and seasoned salt or Creole seasoning over the chicken pieces. Dust the chicken lightly with flour.
Brown the chicken in the hot skillet for about 3 minutes on each side.
Add the chicken broth to the skillet; cover and simmer for 5 to 10 minutes, depending on the thickness of the chicken.
Add the zucchini; cover and simmer for 5 minutes longer.
Add the sliced tomatoes; sprinkle with salt and pepper. continue cooking, uncovered, for about 5 minutes longer, or until the chicken is cooked through. The minimum safe temperature for chicken and other poultry is 165 F.
Top with the mozzarella cheese, cover the pan, and simmer for about 1 minute longer to melt the cheese.
Serve with crusty bread and a simple tossed salad or arugula.
4 Servings
Site Search